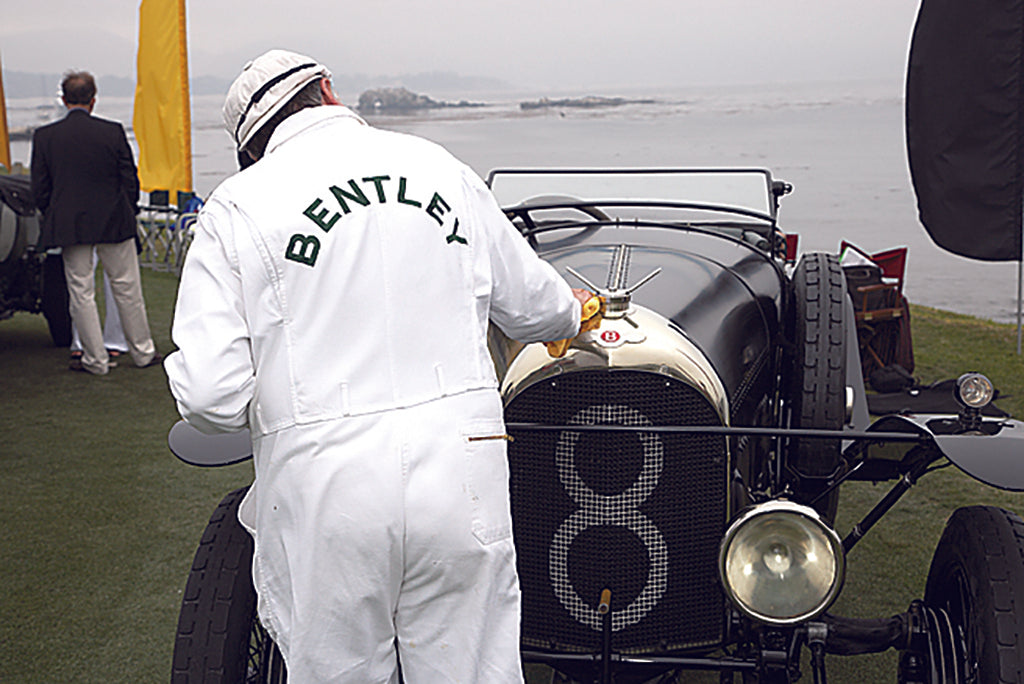 2009 Pebble Beach Concours d'Elegance
2009 Pebble Beach Concours d'Elegance
Bentley: The Star of Pebble Beach This Year
In the 59th Concours d'Elegance at Pebble Beach, Bentley, celebrating its 90th anniversary, was selected as one of the featured marques. Here, we present the entire collection of historic cars that took centre stage at the event.
text:Hiromi TAKEDA
Translation: Mako Ayabe and Michael Balderi
Pebble Beach in Monterey, California, USA, once the home of the US Open, is still recognized worldwide as a prestigious golf course and a mecca for golf aficionados, hosting such events as the US-PGA Championship and AT&T National Pro-Am. For us historic car enthusiasts, however, Pebble Beach holds a different meaning – the rendez-vous point of the Monterey Classic Car Weekend, now established as a typical summer event for enthusiasts. It is also known as the venue for the Pebble Beach Concours d'Elegance, one of the biggest events of the Weekend.
This year (2009) marks the 59th time since the first competition was held in 1950, and is the longest running show in the world. It is as honoured as Italy's Concorso d'Eleganza Villa d'Este, which is now recognized as the world's top competition. Considering the scale of the competition, there is no doubt that the Pebble Beach Concours d'Elegance can be called the world's finest concours of elegance.
At the Pebble Beach Concours d'Elegance, it is customary to select a brand which is celebrating a jubilee year, or which otherwise holds some topical appeal, as the 'featured marque' for each year, and to crown it the star of the show. This year, Bentley, which celebrates its 90th anniversary, has been chosen as this featured brand.
The fact that the Courcours was the venue for the world premiere of the new Mulsanne has already been reported in the international press, but there was also a Bentley-exclusive one-make class in the competition section of the event; beautiful illustrations of the 8-litre and R Type Continental graced the covers of official brochures and posters. The Bentleys were clearly the shining stars of Pebble Beach that day.
At the Pebble Beach Concours this year, 31 Bentley models were entered in the Class F category alone, which was reserved especially for pre-war Bentleys. Seven of these were the W.O.-era 6 1/2-litre in Class F-1. Four belonged to the famous 8-litre Class F-2, the largest model in Bentley's history. An astonishing 13 models were featured in the Class F-3 competition, among them the Bentley works team and other racers. Seven vehicles were also entered in Class F-4, which consisted of the Derby Bentley models built under the R-R umbrella.
All of these vehicles are gems that would be the main draw of any other concours d'elegance, but the famed works models that competed in the 24 Hours of Le Mans in 1930 during the W.O. era, 'Old Numbers One, Two and Three' and 'Birkin Blowers One, Two and Three', built by Tim Birkin of the Bentley Boys, were all present. It was a truly spectacular gathering of historic models. Also on display was a Bentley that is purported to be 'a phantom', the legendary Embiricos Coupé, which competed at Le Mans in 1950. Such a display proved to fans around the world that the Pebble Beach Concours is truly the pinnacle of classic automobile events. Bentleys were also entered in the regular classes on top of the Bentley-only Class F competition, and they all achieved excellent results.
The 'Best of Show' award, however, went to Robert M. Lee's 1937 Horch 853 Voll & Ruhrbeck Sport Cabriolet. Nevertheless, the Bentleys on display at the scintillating Pebble Beach venue were as dramatic a showstopper as the winner. These indisputable classics added a glorious page to the 59-year history of the Pebble Beach Concours d'Elegance, the world's largest concours d'elegance.

This is a revised version of an article that appeared in Flying B No 003 (2010). The information provided here was accurate at the time of publication.

The Concours d'Elegance is one of the world's most prestigious contests, and the judging process is very thorough. The vehicles must be driven to the venue, and strict inspections are carried out not only on appearance, but also on the condition of the vehicle itself. The venue, where celebrities from all over the world gather dressed to the nines, is therefore coloured with a special kind of excitement.
1929 4 1/2 Litre "Birkin Blower 1"
Tim Birkin, known as one of the Bentley Boys, personally found a sponsor to build this Blower Bentley for Le Mans in 1930. The body was later famously modified by Birkin himself for the Brooklands speed trials.
1929 Speed-Six Vanden-Plas
Dual Cowl Tourer
61/2-litre Speed-6 double cowl tourer fitted to a Vanden-Plas by one of the Bentley Boys, Bertie Kensington Moir. The attractive body, which also had a rear windshield, was awarded third place in Class F-1.
1930 6 1/2 Litre H.J.Mulliner
Drophead Coupe
The 6 1/2-litre drophead coupe made by H.J. Mulliner won first place in Class F-1, and while the W.O. era seems defined by a more spartan sports car, this refined and elegant body undoubtedly belongs to the Bentley marque as well.
1922 3 Litre Parkward Tourer
This model, entered in Class F-3, was the very Bentley that competed in the first 24 Hours of Le Mans and finished fourth overall. It was driven by Captain John Duff, one of the founders of the Bentley Boys, who teamed up with test driver Frank Clement.
1928 4 1/2 Litre Harrison Flexible Coupe
The finest example of a unique body fitted to a vintage Bentley of the W.O. era. A customer living in Scotland had a now little-known coachbuilder called Harrison build it for the unpredictable climate in his country, and it was described as a coupé with an emphasis on weatherproofing.
1928 4 1/2 Litre Vanden-Plas Le Mans Sports
>Built in 1928, this 41/2-litre made its debut at the Ulster TT that year. After a Brooklands 'double-twelve' in the following year, it finished fourth at Le Mans in the same year, driven by Clement/Chassagne. It continued to race mainly at Brooklands.
1928 4 1/2Litre Vanden-Plas Le Mans Sports
Originally owned by Tim Birkin, this model competed in several races before being converted with a boat tail at the rear. It has a history at the Montlhéry Circuit in France, where it set an average speed record of 89.73 mph, a world record at the time.
1929 4 1/2 Litre"Birkin Blower 3"
This model is one of the most famous of Bentley's iconic 'Blowers'. It suffered from reliability issues and, although it posted the fastest laps in several races, it failed to win. It did, however, finish second in the 1930 Belfast Grand Prix, driven by Bertie Kensington Moir.
1929 4 1/2 Litre "Birkin Blower 2"
Another Birkin Blower is the 'Birkin Blower Two', which Birkin himself drove at Le Mans in 1930. In addition to 'Old Numbers One, Two and Three', all three Birkin Blowers were present at Pebble Beach this year. As expected, the world's biggest concours is fantastic.
1929 6 1/2 Litre H.J.Mulliner Sedanca de Ville
Originally built as one of Bentley's luxury models, many of the 6 1/2-litres were fitted with magnificent bodies, but the original bodies are extremely rare, probably because they were often later converted to the popular Le Mans style.
1929 Speed-6 "Old Number 1"
The most famous works racing car to win Le Mans in 1929/30 was 'Old Number One'. After leaving Le Mans, the model was converted for Brooklands by Captain Barnato, who won twice with it, so neither the engine nor the chassis are actually from the historic 1929-30 period of the Le Mans race.
1930 Speed-6 Litre H.J.Mulliner Drophead Coupe
The chic Speed-6 that finished second in Class F-2 this time was originally a drophead coupé built by a wealthy female owner in London for H.J. Mulliner, and was a great success at the 1992 Louis Vuitton Classics Concours d'Elegance.
1930 Speed-6 "Old Number 3"
The 'Old Number Three' entered in the 1930 Le Mans 24 Hours, driven by Davis/C. Dunfee, retired on the 21st lap. The number plate remains as it was at the time. Although not necessarily associated with its moniker, 'Number Three', it placed third in Class F-3 this time around.
1930 Speed-6"Old Number 2"
This works racing car finished second to 'Old Number One' at Le Mans in 1930. This year's event will feature all of the 'Old Number One, Two and Three' models. The organisers wished that the 'Old Mother Gun' in Japan could have been at Pebble Beach.
1931 8 Litre Vanden-Plas Tourer
This model was second in Class F-2, in which the 8-litre models competed. Like the first-place 8-litre in the same class, this Tourer was also made by Vanden-Plas; but whereas the other was closer to the Le Mans style, this one had more of a vintage luxury touring automobile feel.
1934 3 1/2Litre Vanden-Plas Tourer
A 1934 31/2-litre Vanden-Plas tourer, which won first place in Class F-4 in the 'Derby Bentley' competition, was built at the R-R Derby factory after joining R-R in 1931. Considered one of the most beautiful Derby Bentleys ever built.
1930 Speed-6 Gurney & Nutting Coupe
Also known as the 'Blue Train', this model was a one-off built by Captain Barnato, chairman of Bentley and representative of the Bentley Boys. However, he drove a different 6 1/2-litre in his famous Blue Train race, one which he had built as a commemorative model.
1931 8 Litre Vanden-Plas Tourer
The last and most powerful Bentley built by W.O. Bentley himself was the 8-litre. Due to the short production period, very few units were produced. The body of this Class F-2 winning Vanden-Plas Tourer is clearly a throwback to the Le Mans Tourers.
1931 8 Litre H.J.Mulliner Weymann Paneled Saloon
This H.J. Mulliner 8-litre saloon finished 3rd in Class F-2. 'Weymann Paneled' indicates that the body panels were made using C. Weymann's patented upholstery process. It was lightweight for its time, but due to its complex construction, very few of these models are still in existence.
1933 3 1/2 Litre Offord Sports
This came out on top in Class F-3, a competition for works cars and racing models, fending off the prized W.O. models, and was built by the R-R Company at the request of E.R. Hall, based on a 1933 Derby 3 1/2 litre, for the 1934 Tourist Trophy Race.
1934 3 1/2 Litre Thrupp & Maberly Drophead Coupe
This model, which won second place in the Derby Bentley beauty competition Class F-4, had a 'three-position top' that could be closed, left open over the driver's head or left fully open. It was purported to cost 10 times the labour and manufacturing expenses of a Cadillac from the same era.
1938 4 1/4 Litre Carlton Drophead Coupe
A Derby-era Bentley 41/4 Litre drophead coupé fitted by Carlton in London. It is known to have been treasured by the president of the R-R Owners Club of America for more than 30 years before it passed into the hands of the current Swiss owner.
1935 3 1/2 Litre Bertelli Coupe
A very rare coupé built by Enrico Bertelli, brother of Augustus Bertelli, who headed Aston Martin during its vintage period and was the sole Aston Martin designer of his era. After the brothers retired from Aston, they fashioned this coupé as coachbuilders themselves.
1936 4 1/4Litre Vanden-Plas Tourer
A 4 1/4 litre Vanden-Plas tourer, which placed third in class F-4. With a body very similar to that of the 3 1/2-litre which was first in its class, this was a one-off built for the famous racer and speed record holder of the time, Sir Malcolm Campbell.
1936 4 1/4Litre Vanden-Plas 2-Seat Tourer
This is a rare Vanden-Plas tourer with a two-seat body. It came to the USA in 1959 after having passed through several owners in Europe. The current owner has had it for nearly 40 years, since 1970.
1937 3 1/2 Litre Gurney & Nutting Sedanca Coupe
This elegant body, very Derby Bentley-like, was the work of Gurney & Nutting, who produced many R-R/Bentley bodies during this period. It features a detachable top, a forerunner of the post-war 'Targa top'.
1958 S1Continental Parkward Drophead Coupe
The S1 Continental Park Ward DHC retained practically the same body styling as the R Type Continental era. The model on display is said to be the very automobile that won the Pebble Beach Concours d'Elegance in 1963, when it was still in active service.
1965 S3 James Young LWB Saloon
The long-wheelbase version of the S-type saloon had a standard Park Ward all-steel body, but a select number of models were fitted with specially made bodies by coachbuilders such as James Young. This particular example has a raised roof for its first owner, who was 195 cm tall.
2003 EXP Speed-8
The Speed-8 returned to Le Mans in 2001 and finished third in its first year in the race, followed by a fourth place finish in 2002. In 2003, the car driven by Kristensen, Capello and Smith gave Bentley its first overall victory in 73 years. This was also the winner in '03.
1954 R-Type Continental
H.J.Mulliner Sports Saloon
Swiss collector Peter G. Livanos' R Type Continental brought a number of Bentley gems to compete in each class this year. The superb condition of this model is also obvious from the fact that it took first place in the contested 'Post-War Touring Car' Class.
1939 4 1/4Litre "Embricos" Pourtout Coupe
Aerodynamic coupé built in '39 by French carozier Pourtout on a 41/4-litre chassis in response to a request from Greek shipbuilding magnate Andre Embiricos. After the war, it entered the '49 Le Mans and finished a respectable 6th overall. It finished 14th in the following year, '50, and 22nd in '51.
1951 Mark-VI Facel-Mataron Coupe
The Mark-VI coupe made by the French company Facel-Mataron, finishing second in the 'Post-War Touring Car' Class, was a one-off built by Facel founder Jean Daninos for his wife. It later featured a body similar to that of the Facel Vega FVS, which was produced in-house from 1954.