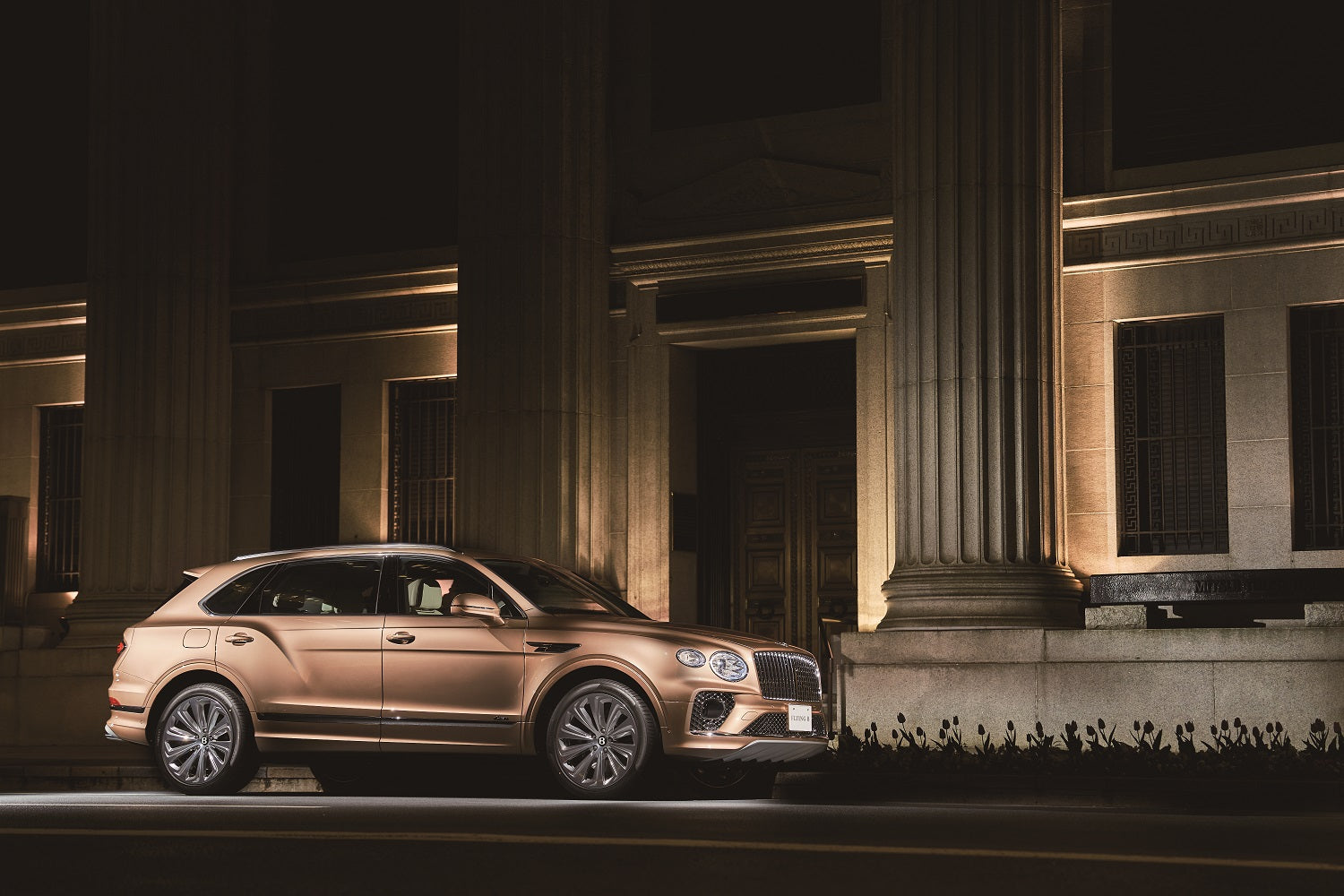 BENTAYGA EWB AZURE - Any luxury car needs to look beautiful in a night city
BENTAYGA EWB AZURE
Any luxury car needs to look beautiful in a night city.

About six months have passed since the Bentayga EWB wowed me with its exquisite workmanship during an international test drive in Vancouver, Canada.
And now, I finally had a chance to drive it in Japan, too. Will it feel as good as back then?
I took a champagne gold Bentayga EWB on an evening ride through Tokyo.
When you look up the word kantan in a dictionary, it says 'the state of being so impressed and moved that you lose words and hold your breath.' This is exactly whatI felt when I saw the silhouette of a Bentayga EWB in Camel by Mulliner, a glamorous champagne gold, illuminated by city lights. I was at loss for words and all I could think was 'wow…' After all, a luxury car needs to look beautiful in a night city.
A luxury car also needs to go beyond surface-level luxury and should make the person riding it feel comfortable and at ease.
When you open the rear door, slightly larger than on a standard Bentayga, the Flying B lights up under your feet and an illuminated Bentley diamond consisting of 22 LEDs greets you from the inner door. At first, I wondered, 'is this a little too much?' but then when I ride a different car in the same position, I get a curious feeling that something is missing.
The model I took for a test drive was the Bentayga EWB Azure First Edition. It is based on the Azure with features focused on wellbeing - touring specifications with driver assistance features including Front Seat Comfort with 22-way adjustment, lane assistance, a head-up display, night vision and ACC as well as the 48V Bentley Dynamic Ride. This first edition also has premium audio Naim for Bentley with twenty speakers and a 1720W amp and LED welcome lights. The limited first edition model was available as made-to-order for the first 12 months only.
Moreover, this car has the optional Airline Specification, one the Bentayga EWB's highlights. Unfortunately, you only get to enjoy it when you sit in the rear behind the front passenger seat. When you activate Relax Mode using a smartphone-like mobile touch screen controller at the centre (or a switch next to the door), the front passenger seat slides to the front, a footrest is raised and the rear seat reclines up to 40 degrees. The angle is stops at an optimal position to relax in - not too high nor too low. In addition, the Seat Auto Climate measures the passenger's body temperature and humidity to achieve optimal air temperature and the Postural Adjust improves blood circulation and relieves fatigue by gradually adjusting the shape of the seat in parts that touch your body, inviting you to take a comfortable nap. The car is even more silent than the standard model and combined with the Naim for Bentley's high-quality sound, you can surrender yourself to silence.
The Bentayga EWB is just as brilliant in the driver's seat. The extended 180 mm wheel base is very effective and the car moves straight ahead with ease and precision like a cruiser. The EWB is the first Bentayga model with electronic All-Wheel Steering for more straight-travelling stability and followability during cornering.
What surprised me even more was how well it handles small turns. You can make an easy U-turn at any crossroads with a U-turn lane, which is not something you expect from a large 5305 mm-long car. The Bentayga EWB might be a chauffeur-driven car but it also performs well as a driver's car.